Fully integrated Identification and Antimicrobial Susceptibility Testing
VITEK® 2, the leading automated system for routine antimicrobial susceptibility testing, provides efficient workflow, faster AST results. Its fully-integrated ID & AST approach ensures superior performance to rapidly and confidently guide therapy.
Disclaimer: Product availability varies by country. Please consult your local bioMérieux representative for product availability in your country.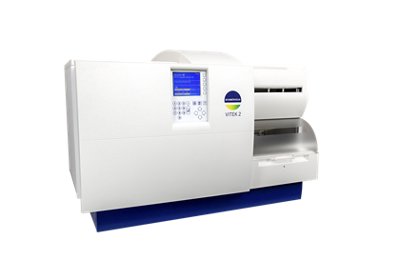 System Overview
Reagents
Services & Support
Specs & Resources
Fast and accurate ID & AST* results offer critical insights for antimicrobial stewardship. Constant innovation that responds to new antimicrobial resistance challenges makes VITEK® 2 the leading automated system for routine AST testing. It's trusted worldwide for its efficient workflow, faster routine AST results and fully integrated ID & AST approach offering superior performance.
With the rise of antimicrobial resistance, detection of pathogens is more complex. The VITEK® 2 system continuously evolves and innovates to align with microbiology lab challenges ensuring result reporting in as early as 6-8 hours with real-time updates to help clinicians prescribe more targeted therapy choices earlier.
Combining an automated platform with an expansive database, the VITEK® 2 system offers the confidence of fast, accurate results. Its smart design helps ensure better overall laboratory workflow with fewer repetitive tasks and improved standardization. 
FASTER ROUTINE AST RESULTS. FASTER THERAPY GUIDANCE
Continuous growth monitoring technology
Automated transfer of validated results
Preliminary AST results to inform clinicians earlier
Accurate MIC compliant with EUCAST/CLSI or FDA standards
EFFICIENT WORKFLOW EFFICIENT LAB
Shortest hands-on time: 40-50% fewer steps than other systems1, 2
Standardized, fully traceable workflow designed to be rapid and reliable
Simple & flexible to use for time-savings
Automated validation of every single AST result for microbiology with confidence
Efficient lab operation with standardization of preparation activities leveraged by VITEK® STATION, VITEK® FLEXPREPTM  and VITEK® DENSICHECK®
FULLY-INTEGRATED ID & AST FOR SUPERIOR PERFORMANCE
VITEK® MS PRIME for ID in minutes integrates seamlessly with VITEK® 2 AST results
Simple automated reports and data insights with VITEK® 2 and MAESTRIATM 
Improve patient outcomes by reducing length of hospital stays by average 4 to 7 days2, 3
Largest bug/drug combinations maintained overtime (embedded expertise with the ADVANCED EXPERT SYSTEM™ (AES) over 15 000 combinations)
VITEK® SOLUTIONS for all Laboratories
VITEK® 2 is endlessly flexible to fit various sizes and types of laboratories – and it even grows with you as your needs change.
For a completely integrated ID and AST system with Mass Spectrometry technology, the VITEK® MS PRIME complements the VITEK® 2 system and pairs seamlessly via MAESTRIA™
Increase testing capacity with the VITEK® 2 XL (120 cards) versus VITEK® 2 (60 cards)
*ID & AST: Identification and antimicrobial susceptibility testing
References
1. Rommier W et al. Analysis of the Comparative Workflow and ID/AST Test Result Accuracy of the VITEK® 2 Compact and the Phoenix Systems. ASM 2006; Poster C-123.
2. Heller-Ono A et al. Ergonomic Analysis Comparison of the VITEK® 2 and VITEK® 2 Compact with the Microscan WalkAway® 96 and Phoenix™ For Work Flow Efficiency and the Likelihood of Distal Upper Extremity Strain. bioMérieux White Paper, 2008. [days less in general ward; 7 days less in ICU in combination with Antimicrobial Stewardship Program and MALDI-TOF/VITEK®]
3. Cavalieri SJ et al. Effect of Antimicrobial Stewardship with Rapid MALDI-TOF Identification and VITEK® 2 Antimicrobial Susceptibility Testing on Hospitalization Outcome. Diagnostic Microbiology and Infectious Disease. 2019; Vol 92 (2):208-211.
Broad and Expanding ID & AST Test Menu
VITEK® 2 solution offers ready-to-use cards with broad and expanding ID & AST test menu with identification of up to 500 organisms and suceptibility results for up to 180 antimicrobials.
VITEK® 2 ID & AST cards are unique, lightweight, closed credit card format. They provide rapid and accurate species level identification or susceptibility results with accurate MICs* based on reference CLSI** and ISO*** MIC methods and EUCAST****, US FDA*****, or CLSI® breakpoint interpretations.
They are regularly updated to ensure ID & AST results remain pertinent to support clinicians in prescribing appropriate, more targeted therapy.
Rapid. Flexible. Efficient.

Providing accurate and reliable identification and antimicrobial susceptibility results for clinically relevant organisms with self-contained, disposable test cards designed for VITEK® 2 automated systems.
*Minimum inhibitory Concentration

**Clinical & Laboratory Standards Institute
***International Organization for Standardization
****European Committee on Antimicrobial Susceptibility Testing
*****Food and Drug Administration
VITEK® 2 is part of a comprehensive service offering from consultancy to installation and connectivity through training, verification, workflow optimization and ongoing support.
To provide you with the highest level of customer service, training and support we have two dedicated teams to answer your ever day questions and needs:
Local subsidiary teams
Global Customer Service (GCS)
Every bioMérieux subsidiary and distributor has its own Local Customer Service to ensure support is close at hand. Our objective is to ensure you receive first class personalized service regardless of your geographical location.
These local teams can rely on global level teams, which have an international vision of the in vitro diagnostics market, for extra support when required on instruments, reagents, information technology and service solutions.
bioMérieux wants to make your life easier. Login or Register to our new Resource Center website. Here you can access Quality Control Certificates (QCC), Instructions For Use (IFU) and System Manuals along with other file types.
BIOMÉRIEUX LAB CONSULTANCY
Collaborative every step of the way, we bring you customizable services that help you create the balance that makes the most of your lab talent and expertise. To really get to know your lab, we "roll up our sleeves" and work by your side to:
Support rapid decisions
Increase productivity
Maximize quality
When we combine your knowledge of your lab and our expert outside perspective, we have the winning formula to enhance use of technology, improve workflow and processes, and make the most of staff skills.
Product
Weight
Electrical Power Requirements
Heat Dissipated
Environmental Requirements
Altitude
VITEK® 2 (60 card capacity)
110 kg/240 lbs

110/120 VAC (50-60 Hz)

220/240 VAC (50-60 Hz)

512 BTU/HR (nominal)

Operating Ambient Temperature Range: 20°C to 30°C (68°F-86°F)

Operating Humidity Range: 20% to 80% relative humidity, non-condensing

Up to 2000 meters
VITEK® 2 XL (120 card capacity)
145 kg/320 lbs

110/120 VAC (50-60 Hz)

220/240 VAC (50-60 Hz)

682 BTU/HR (nominal)

Operating Ambient Temperature Range: 20°C to 30°C (68°F-86°F)

Operating Humidity Range: 20% to 80% relative humidity, non-condensing

Up to 2000 meters
VITEK® 2 Advanced Expert System
VITEK® 2 Workflow Innovations
VITEK® 2 Advanced Expert System
VITEK® 2 Workflow Innovations