A family-owned company, bioMérieux has grown to become a world leader in the field of in vitro diagnostics. Our entrepreneurial adventure, begun over a century ago, is driven by an unrelenting commitment to improve public health worldwide.  
We specialize in: 

Clinical applications: We develop and produce diagnostic solutions that help healthcare professionals quickly and reliably determine a pathology or the source of a contamination and provide them with crucial information for optimal patient care.  
Industrial applications: We also apply our expertise to meeting industrial microbiology needs, building innovative, precise technologies that ensure the quality and safety of food and pharmaceutical products.   
While it is one of the biggest public health threats of the 21st century, antimicrobial resistance (AMR) remains largely overlooked. For decades, the massive and inappropriate use of antimicrobials has prompted the emergence of microorganisms developing the ability to defeat drugs designed to kill them. This is particularly true for bacteria, an increasing number of which are becoming resistant to antibiotics. 
Without antibiotics, the simplest infections become deadly and complex surgical procedures like organ transplants are impossible. Diagnostics help preserve the efficacy of antimicrobial medicine for future generations. They play a pivotal role in antimicrobial stewardship by informing clinical decisions for appropriate antibiotic therapy initiation, optimization, and discontinuation. 
At bioMérieux, we are strongly committed to the fight against antimicrobial resistance. Three quarters of our R&D and 80% of our product portfolio focus on AMR.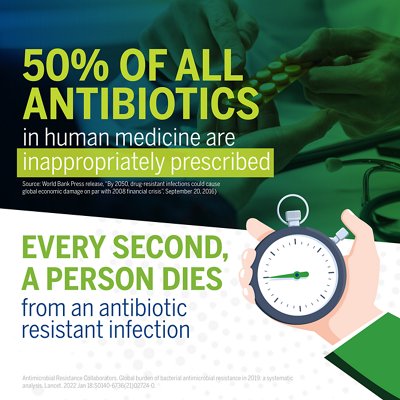 Even though it is often under-recognized, sepsis is one of the leading causes of death worldwide.
Sepsis is a clinical syndrome that occurs in patients following an infection against which the immune response is out of control. This inadequate inflammatory response will cause tissue damage and organ failure that can lead to death.
Sepsis can develop from the clinical deterioration of a common infection, as well as skin and wound infections. Early recognition and rapid diagnosis are essential for early patient management; any delay in starting appropriate treatment can increase mortality.
We provide the broadest product offering on the market for the diagnosis of sepsis, featuring a range of immunoassay, microbiology, and molecular biology tests.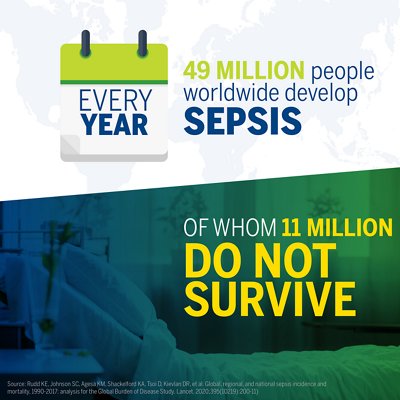 Sepsis
49 million people worldwide develop Sepsis
In line with answering the needs of Emergency Department physicians and Intensivists in dealing with acute infection (including Sepsis) and Infectious Diseases, bioMérieux is also committed to provide diagnostic solutions to acute non-infectious conditions, such as cardio-vascular or kidney diseases. that very frequently affect patients in the hospital.
bioMérieux provides a large set of diagnostic solutions to diagnose and manage infections, and support physicians in the timely identification and management of organ failures, like acute myocardial infarction, heart failure, pulmonary embolism and acute kidney injury (AKI).
 
Key figures: 
Every year, there are around 13.3 million cases of acute kidney injury worldwide. 
Around 18 million people die from cardiovascular diseases annually. Of these deaths, 85% were due to heart attack and stroke.
Patients with an infectious disease generally present initial signs and symptoms that are not specific enough to clinically identify what is making them ill. The strategy to identify the responsible disease agent(s) has traditionally been based on testing for the most likely cause of a disease, waiting for test results and, if they are negative, repeating the process.
The syndromic approach uses a single test for all the microorganisms suspected of causing an infectious disease, saving time and allowing the patient to begin treatment sooner.
Ensuring food and pharma safety and quality of your everyday products is vital. That's why we offer the most extensive range of manual and automated solutions for industrial microbiological control.
These solutions are used to determine the quality of raw materials, perform controls of processes and the environment during production, and test the quality of finished products. 
Beginning with Marcel Mérieux's development of the first anti-tetanus serum over a century ago, innovation has always been at the heart of bioMérieux. This pioneering spirit continues to drive our R&D teams that combine their state-of-the-art scientific knowledge with emerging techniques and new technologies to drive progress in pathogen detection and identification.
bioMérieux develops high-performance solutions that are based on three key areas of in vitro diagnostics: 

Microbiology: we are the world leader in clinical microbiology and industrial microbiological control;
Immunoassays: we are specialized in high medical value tests; 
Molecular biology: we are a pioneer and leader in the syndromic molecular diagnosis of infectious diseases. 
Our collaborative projects
We have joined forces with the Lyon Civil Hospitals (HCL) in two joint research laboratories. Their 2020-2025 roadmap focuses on: innovative biomarkers for the diagnosis of severe bacterial infections in Pediatric Emergency and Neonatal Intensive Care Units; the transcriptomic method for evaluating the immune status of patients in intensive care; and prognostic markers of organ failure, especially kidney failure.
In China, a joint research laboratory has been created with the Shanghai Children's Medical Center (SCMC). A clinical study of the NEPHROCHECK® test for the early risk assessment of acute kidney injuries in young children following cardiac surgery, as well as a research project focusing on severe respiratory disease to assess diagnostic and prognostic markers, have already been carried out.
bioMérieux is also a key partner in several of research and collaboration projects funded by the European Commission and under the aegis of IMI*, HORIZON 2020** and EIT Health***. These include:
We are also engaged in several partnerships with important stakeholders in the healthcare industry, such as
Entasis Therapeutics in the U.S., who uses the BIOFIRE® FILMARRAY® systems and BIOFIRE® Pneumonia Panels in AMR clinical trials.
Astellas in Japan, uses NEPHROCHECK® in clinical trials to identify patients at risk for acute kidney injury (AKI).
Baxter, with whom we signed an exclusive distribution agreement for Europe and the United States in 2020 for the NEPHROCLEAR™ CCL14 test (AKI).
Sobi in Sweden, for the development and commercialization of a companion diagnostic test on VIDAS® to accompany Sobi's Gamifant® in potential treatment of Graft Failure post Hematopoietic.
Our in-house R&D teams joined forces with two partners, Mirrhia and Interscience, to develop the new 3P® range of culture media solutions for process optimization. This range was designed to digitize and automate environmental controls often performed manually and therefore time-consuming and prone to errors.

We also leveraged new bioinformatics expertise in the agri-food R&D team to develop a predictive diagnostics solution that better predicts contamination risks. This will be done by mapping the microbiome of a factory using molecular biology, genome sequencing, predictive models and cloud technology.