Eco-design: lighter and more responsible packaging
We have developed more environmentally friendly brown packaging for our VIDAS® pilot range. They are now extended to other ranges.
First of all, we modified the plastic of our trays containing our VIDAS® strips with transparent PET1, a 100% recyclable and very commonly recycled material2. Then, in March 2022, we replaced the white packaging from our VIDAS® range by recycled brown cardboard, with a more simple design.
Thanks to this eco-packaging, the wood fibers no longer need to be chemically bleached or covered with a layer of pigments. Solvent-based inks gave way to water-based inks and the varnish was removed. Our logo is printed in monochrome, which makes it possible to rationalize the number of pigments used in printing.
We have also optimized the packaging: by reducing the thickness and size of the flaps, 36 tonnes of cardboard are saved per year (equivalent to the mass of 24 hippopotamuses), representing 60 tonnes of CO2 emissions avoided (approximately 60 round trips Paris-New York by plane)!
These developments towards more responsible packaging have been made without affecting the quality of the kits, the primary function of the packaging being to protect its contents.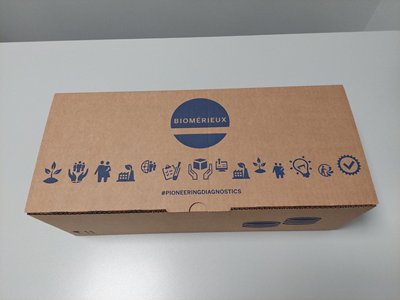 The first brown boxes were delivered in March to our VIDAS® customers and their use is already being extended to other ranges, starting with the packaging of our Petri dishes used by our  Clinical customers for their microbiological control. Eventually, this will also concern our Industry customers since 100% of our Petri dishes will be delivered in brown boxes.
1 Polyethylene terephthalate
2 This is the material that most water bottles are made of.