Mass Spectrometry Microbial Identification System
VITEK® MS is an automated mass spectrometry microbial identification system that uses Matrix Assisted Laser Desorption Ionization Time-of-Flight (MALDI-TOF) technology. 

Disclaimer: Product availability varies by country. Please consult your local bioMérieux representative for product availability in your country.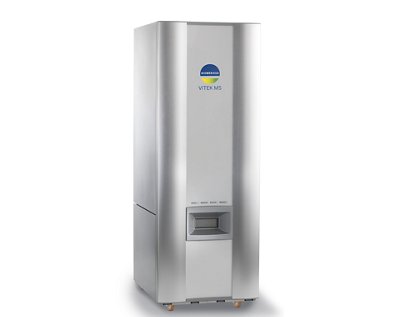 System Overview
Services & Support
Specs & Resources
Clear, Fast, Accurate Identification
In just minutes, VITEK® MS can provide single-choice identifications at the species, genus, or group level. With both VITEK® MS and VITEK® 2, clinicians receive quick information to adjust therapy for better overall patient care and outcomes.
Our proprietary Advanced Spectra Classifier offers robust and accurate results needed for optimal patient-care decisions. The VITEK® MS system reads each spectrum as a series of peaks that are detected and sorted by mass and intensity. With the use of the Advanced Spectra Classifier, better discrimination is provided as every peak is considered in the calculation of the identification result. 
Comprehensive, regularly-updated database
VITEK® MS V3.2.0 is a CE-marked database. Population-built, it allows for better discrimination between species and accounts for diversity among strains within the same species. You get robust and accurate performance with no need to modify scores. 
Spectra for each species are included; these are generated from:
An average of >12 isolates/species and average of 35 spectra/species
Geographical diversity of isolates
Isolates of different sample origins (e.g. blood, tissue, etc.)
Isolates subcultured on different media
Isolates from different incubation times
The VITEK® MS IVD CE-marked database is consistently expanding to add new emerging pathogens and clinically relevant species. With the most recent update, anaerobes, moulds, yeast, and mycoplasma as well as Brucella, Candida auris, and Elizabethkingia anophelis are among the significant new species that have been added to the new VITEK® MS V3.2.0 database. This follows a previous update that included Mycobacteria, Nocardia, and moulds.
The expanded database enables you to reliably identify 1,316 species, with an average of 12 strains/species covering microbial and technical variability.
Important new additions in the VITEK® MS V3.2.0 IVD CE-marked database are:
Brucella: Rare, but difficult to recognize and hazardous. VITEK® MS is the first MALDI-TOF System to include Brucella in its IVD-CE marked database. Reduce exposure with rapid, safe, and accurate ID.
Candida auris: An emerging multidrug-resistant fungal pathogen, associated with high mortality and commonly misidentified.
Elizabethkingia anophelis: A once-harmless microbe that has now evolved into a pathogen causing increased infection in ICU patients.
The update includes 217 new bacteria species including 40 anaerobes.
55 new fungal species
Differentiation within the Acinetobacter baumanii complex: now Acinetobacter baumannii, Acinetobacter calcoaceticus, Acinetobacter nosocomialis, and Acinetobacter pittii
Differentiation between Proteus penneri and Proteus vulgaris
Addition of Mycoplasma pneumoniae to the IVD-CE marked database (non-clinically validated species in the US IVD database)
Database also contains: Mycobacteria, Nocardia, and moulds, among them Mycobacteria tuberculosis (TB), non-tuberculous mycobacteria (NTM), dermatophytes and dimorphic fungi, including the most prevalent species relevant to patient infections
VITEK® MS v3 / KB v3.2.0 is pending 510(k) clearance and is not available for commercial sale in the United States.
Optimized Workflow and Seamless Identification and Antimicrobial Susceptibility Testing (ID/AST) Integration
VITEK® MS is designed specifically for optimized workflow in the microbiology laboratory. Its 4-slide capacity enables parallel preparation of samples by four different technologists at separate workstations, with placement on the instrument at the same time. With 48 sample spots per target slide, 192 isolates can be tested per run.
Guided slide preparation for ID and connection with AST using the VITEK® MS Prep Station
Very few steps to obtain a result – same day ID and AST (with VITEK® 2) results
Less hands-on time to focus on more value added tasks
Variable throughput for large and small labs (1-192 samples/run)
VITEK® SOLUTIONS: Complete Traceability and Flexibility
Along with VITEK® 2, VITEK® MS is part of our integrated ID/AST and blood culture offer, combined to meet both your routine and critical testing needs. With our offer, you leverage your expertise to deliver test results that impact timely, appropriate therapy.
VITEK® MS provides complete traceability and flexibility that contributes to overall lab efficiency and confidence:
Barcodes on reagents and disposables provide traceability by automatically linking ID with AST results for each isolate.
Disposable slides:

Reduce risk of erroneous results from contamination
Reduce chemical safety hazard issues
3 acquisition areas or groups, each with a calibration spot

Automatic verification of operation, tuning and alignment is transparent to the user
Laser
337 nm nitrogen laser, fixed focus
Maximum pulse rate - 50 Hz (50 laser shots per second)
Near normal (on-axis) incidence of the laser beam to the sample
Laser power and laser aim under software control
Analyzer
Linear flight tube of 1.2 m drift length
Vacuum maintained by two turbomolecular pumps (nominal 250 l/s) with rotary backing
Beam blanking to deflect unwanted high intensity signals (e.g. matrix ions)
Dimensions

Size (w h d) - 0.7 m x 1.92 m x 0.85 m, minimum distance to wall at back is 100 mm
Weight - 330 kg excluding data system
Installation Requirements
Electrical

200 VAC, 50/60 Hz, 1000 VA single phase OR
230 VAC, 50/60 Hz, 1000 VA single phase

A 'clean', stable, and continuous mains supply is required for reliable operation
Temperature - ambient 18° to 26° C
Relative humidity - less than 70% non-condensing
Vibration free, firm, level floor, at least 330 kg supported at four points
Mass Range