Testing Bioproduction Samples
Using the BIOFIRE Mycoplasma Molecular Lab in a Pouch System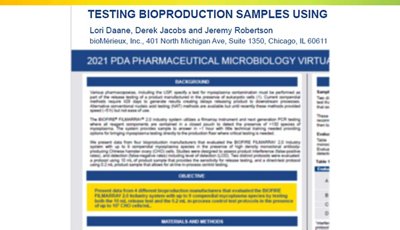 2021 PDA PHARMACEUTICAL MICROBIOLOGY VIRTUAL CONFERENCE, OCTOBER 4-6, 2021
This poster presents results from independent studies performed by 4 bioproduction companies using the BIOFIRE® Mycoplasma system that can detect >130 species of mycoplasma 
The BIOFIRE® filmarray system condenses all the steps of a conventional PCR test into an enclosed pouch and provides sample to answer in less than one hour with as little as 2 minutes of hands-on time.  
The studies performed and summarized in this poster used the following protocols: 
• Direct test protocol for in-process control testing utilizing 0.2 mL of sample (LOD less than or equal to 30 cfu/mL) 
• Release test protocol the concentrates the sample with centrifugation utilizing 10 mL of sample (LOD less than or equal to 10 cfu/mL) 
 
The evaluators tested a variety of sample types including high density CHO cells up to 107/mL with and without inoculated mycoplasma.  
Regardless of the protocol tested there were no false positive results reported when testing product samples in the absence of mycoplasma.
The results showed 100% detection of inoculated samples at target inoculum levels for both the 0.2 mL direct test protocol and the 10 mL release test protocol. 
 
These studies show that the BIOFIRE® Mycoplasma System is well suited as both a release test or as an at-line in-process control test for high density CHO cell samples. 
The results showed no product interference and high sensitivity providing reliable mycoplasma results in less than 1 hour with little technical training needed. 
- Lori Daane, Ph.D., bioMérieux 
 
TO DOWNLOAD THE POSTER, PLEASE COMPLETE THIS FORM