Your Solution for Innovative Enumeration
Providing quick microbiological analysis results for cosmetics products, will help you to release safer products faster on the market. With a reduction in time-to-results as well as cutting work time by half, your business can remain financially healthy when using the TEMPO® CHALLENGE TEST. The TEMPO® CHALLENGE TEST increases throughput with increased levels of enumerations, which increases flexibility and shortens the product development cycle.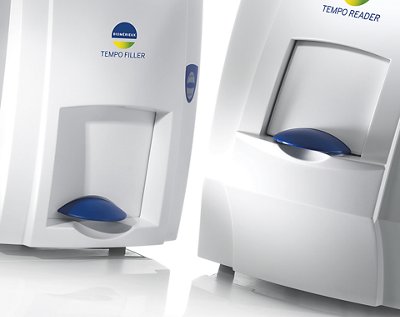 Product Details
Tests
Download
We developed the TEMPO® CHALLENGE TEST with a broad range of cosmetics testing capabilities so you can have the exact enumeration.
 Free up time for investigation studies and quickly adapt to seasonal workload peaks

Decrease new formulation development time and manage more projects concurrently
Neutralization efficiency demonstration: 1 to 4900 CFU/g or ml
Enumerate: from 100 CFU/g up to 10E8 CFU/g
Less waste and simplified reagent management (long shelf life and space savings)
Enumeration traceability, connectivity to LIMS and results exportable to Excel
Compatible with all cosmetic categories
21 CFR part 11 compliant
ISO  11930 compliant
USP <1223> compliant
Fast technical training
IQ/OQ/PQ validation package available
The TEMPO® CHALLENGE TEST is a microbiological testing solution suitable for all categories of testing on cosmetics products. It is a miniaturized and optimized MPN method (16 tube repetition). A unique enumeration card (3,7 log reading range per card) and single vial of specific culture medium replaces numerous dilution tubes and plates.
With more than 150 products tested, the TEMPO® CHALLENGE TEST is your reliable and robust solution for faster and less labor intensive cosmetics pathogen detection
TEST FOR:
Toiletries: shower gels, shampoos, soaps, antiseptic liquid soaps, deodorants, shaving 
Skin care: face masks, massage oils, anti-aging creams, self-tanning, anti-redness, whitening cream, sunscreen, make up removal lotion
Make-up: foundation, eye shadow, lip gloss, mascara, glittering gel 
Hair styling: conditioners, moisturizers, straighteners 
Baby products: titanium cream, cleansing products, skin lotion 
Oral care: toothpaste (regular, whitening, freshening) 
Depilatories: creams 
TEMPO® Challenge Test Automation
Filename

TEMPO CT brochure 9316314 shwpd.pdf

Size

416 KB

Format

application/pdf