eGENE-UP® Lysis and RNA/DNA Purification
The eGENE-UP® system enables high-quality Lysis and RNA/DNA purification to enhance the detection of foodborne pathogens across a wide array of targets.
The ideal add-on to the GENE-UP® PCR system—the eGENE-UP®—provides an integrated workflow for foodborne virus detection with ceeramTOOLS® PCR kits. With its semi-automated extraction platform, increased repeatability and reproducibility, the time to detection is faster and less labor-intensive.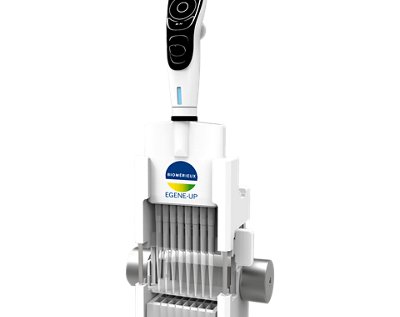 Features
Tests
Complete workflow to detect foodborne viruses and infections
DNA extraction system with performance equivalent to ISO15216
Starter kit includes 2 x 96 grip tips and 10 x 48 plates
Runs 8 samples in less than 40 minutes
Easy to clean and maintain for consistent results
Automated pipetting
Integrated software
Reduced physical footprint
Safe, rapid, and efficient recovery of purified nucleic acids to improve the identification and analysis of foodborne pathogens.
NUCLISENS reagents:
•    Lysis
•    Silica beads
•    Washing buffers I, II, III