ESTREAM® offers high-precision automated PCR setup for streamlined workflow and secured results.
Disclaimer: Product availability varies by country. Please consult your local bioMérieux representative for product availability in your country.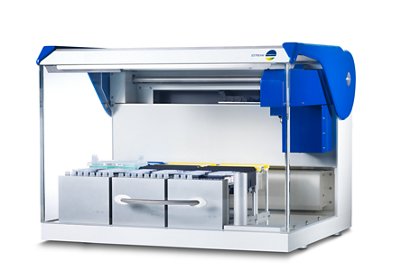 Image
System Overview
Services & Support
Specs & Resources
Automated PCR Setup with an Improved Workflow 
PCR setup is a critical task in a laboratory, yet it can be repetitive and a drain on technician time. With the pressures for rapid, quality results that labs face today, continually improving workflow is primordial. The ESTREAM® automated PCR setup is a simple, straightforward solution.
Reduce hands-on time with high-performance 
Reliable results that are standardized and reproducible day-by-day
Easy to set up multiple PCR assays on one PCR plate

Quantitative and qualitative ARGENE® Real-Time PCR kits
Compatible with most commonly used 96-well PCR plates

Rapid, high-precision pipetting:

200 µL single pipetting head
Air-based pipetting (no fluidic)
Liquid Level Sensing (pressure-based)
Multi-dispensing
Reliable pipetting performance
The ESTREAM® instrument offers excellent versatility. You can be sure it will integrate easily into your lab, no matter your needs.
Validated for use with easyMAG® vessel and common eluates storage tubes (1.5 mL)
Compatible with the use of eluates from EMAG®, NucliSENS® easyMAG®, and ARGENE® Real-Time PCR assays
Easy-to-use software and full data transfer ensured throughout the process with bioMérieux's complete molecular workflow solution:

ARGENE® CONNECT software offers full connectivity between LIS, EMAG®, NuclSENS® easyMAG®, ESTREAM®, and most frequently used Real-Time PCR platforms
Seamless function with ARGENE® assays workflow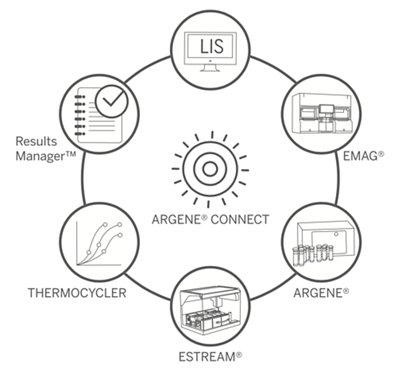 When you invest in bringing bioMérieux instrumentation into your lab, you will also discover our best-in-class service and support solutions:
Comprehensive service offer
Easy implementation & instrument use
Support by an acknowledged and high-quality service network: skilled field engineers, application & IT experts
High level of responsiveness (hotline experts or onsite intervention)
| Features | Specifications |
| --- | --- |
| Instrument Footprint (W x D x H) | Width = 600 mm - Depth = 515 mm - Height = 470 mm |
| Weight | 45 kg |
| Deck Capacity | 9x microplates full positions and 3 reagent racks positions |
| Pipetting Head | 200 µl single channel head |
| Filtered Tips | 96 racked filtered tips: 50 µl, 200 µl provided by bioMérieux |
| Master Mix on Board | Up to 3 quantitative ARGENE® assays, Up to 6 qualitative ARGENE® assays, Up to 3 x 8 reagents/control tube positions |
| Run Time | Approx. 35 min (depending of the number of master mixes used) |
| Connectivity | Connectivity with ARGENE® CONNECT (data transfer software) |
| UV Lamp | Yes |
| HEPA Filter | Yes |
| IVD Compliance | General Laboratory Use |