Joint Research Unit: 20 years of collaboration in the fight against infectious diseases. 
For 20 years, bioMérieux and the Hospices Civils de Lyon (HCL) have been collaborating in an innovative public/private research partnership. Joined in 2016 by Claude Bernard Lyon 1 University, the three institutions are working to figure out the mechanisms of immunity in order to develop diagnostic tests.
A facility that favors proximity to its patients
It was on the initiative of Dr. Christophe Mérieux and Prof. Pierre Miossec that the first joint research unit on rheumatoid arthritis was created at the Edouard Herriot Hospital. In 2009, a second laboratory dedicated to oncology was set up in the heart of Lyon Sud. Since 2014, the two laboratories have refocused their activities on sepsis and understanding the mechanisms of immunity to infections.
These laboratories bring together, at the heart of the hospital, many clinicians, researchers, and PhD students who work closely with patients to better understand immune responses to infection.
"It's in bioMérieux's DNA to innovate with external partners to improve patient care, and this joint unit is a perfect example," explains Karen Brengel-Pesce, Head of Joint Research Laboratories, bioMérieux.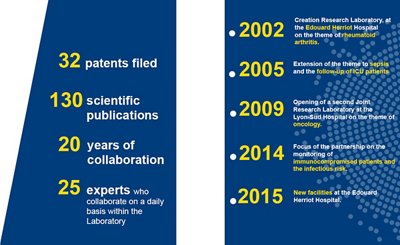 Four research themes
Assessment of the state of the immune system of ICU patients with sepsis
Understanding and predicting organ failure
Diagnosis of infections in febrile children in pediatric emergencies or neonatology
Failure of interferon type 1 antiviral response in severe respiratory infections
These joint research units are a unique melting pot of scientific interactions to address public health issues. bioMérieux brings its expertise in diagnostics and provides these innovative solutions. The HCL provides the medical knowledge of all its doctors and university professors. The arrival of Claude Bernard Lyon 1 University in 2016 added an additional dimension to the partnership, that of training. Today, a dozen thesis and master's students work in the two units.
"One of the advantages of a joint unit at the heart of the hospital is to be able to make innovations available to experts as soon as possible, with a view to serving patients quickly," says Alexandre Pachot, Director of Health Research at HCL.
These two laboratories are a key research platform for the future. They will play a major role in the creation of the immuno-infectious biocluster for which the Auvergne Rhône Alpes region is a candidate, under the France 2030 investment plan.

< SWIPE FOR MORE ARTICLES >