Since January 2022, more than 85,000 confirmed cases of monkeypox have been reported to the WHO, from 110 countries1. To respond to this public health emergency, bioMérieux has developed a MONKEYPOX R-GENE® PCR kit. Available for research use only (RUO)2, this kit can easily be used by laboratories around the world.
The monkeypox virus, responsible for a disease that the WHO now calls "Mpox"3, has been known for many years in West and Central Africa. Since May 2022, it has caused an epidemic which not only affects new geographical areas, but which is also linked to new modes of transmission. It broke out in Western Europe (particularly in Spain, the United Kingdom, France, Germany, and the Netherlands), followed by the Americas and other regions of the world, with peak contamination in June/July. In those areas, Mpox mainly affects men who have sexual relations with other men.
Faced with this situation, on July 23, 2022, the World Health Organization (WHO) declared Mpox a public health emergency of international concern, which implies the highest level of epidemiological monitoring. Each country was therefore asked to confirm all probable cases to the WHO in order to help track the evolution of the disease as precisely as possible.
The symptoms of Mpox, which is mainly transmitted by direct contact, generally begin with fever, muscle aches and migraines, followed by an outbreak of pimples evolving into vesicles. In the majority of cases, the disease is not serious and the symptoms resolve on their own after three to four weeks. However, the discomfort for patients can be very high, due to pain and itching, and can require hospitalization in some cases. In very rare cases, the infection can be fatal.
The differential diagnosis, based on symptoms, can be confirmed by a PCR test, most often carried out on samples from lesions of the skin or mucous membrane.
This is what led bioMérieux, as early as the summer of 2022, to begin work on developing a PCR kit to allow qualitative detection of the virus. "The last three years have shown the need to be able to offer RUO products to manage pandemic risks, emerging pathologies and new variants, to respond quickly to patient needs," explains Martine Joannes, Senior Vice-President, Molecular Biology R&D. From February 6, 2023, the kit will be available in the vast majority of countries around the world that accept RUO products.

Like all tests in the ARGENE® range, the MONKEYPOX R-GENE® test can be carried out by any type of laboratory using nucleic acid extraction and amplification platforms commonly available on the market. A result is obtained in four to five hours. Based on bioMérieux's development expertise and know-how, the test design aims to enable reliable detection through the detection of two different genes, even in the event of possible monkeypox mutations. Another advantage is that the PCR test incorporates an endogenous internal control thanks to the detection of a cellular gene, making it possible to verify sample validity.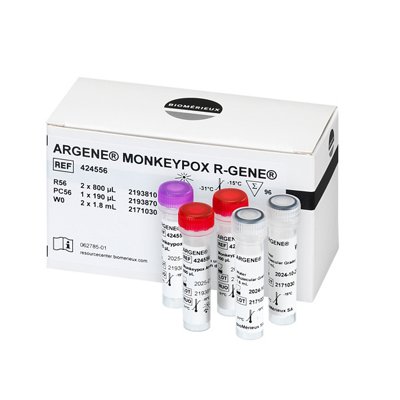 < SWIPE FOR MORE ARTICLES >