bioMérieux is making a $5 million investment in InDevR, and will be the exclusive distributor in Europe of VaxArray®, a state-of-the-art vaccine quality control platform developed by the American company. 
bioMérieux has signed a partnership with InDevR, a company specializing in analytical tools for the vaccine industry. Co-founded in 2003 by a team of scientists from the University of Colorado, including Dr. Kathy Rowlen, CEO, the company offers an innovative platform - VaxArray® - to evaluate critical quality attributes of vaccines, which are essential measurements for manufacturers and a regulatory requirement for the release of produced lots. As part of the agreement, bioMérieux will provide a $5 million equity investment in InDevR and become its exclusive distributor in Europe.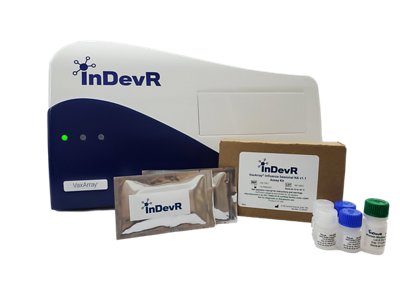 VaxArray® was established on immunoassay technology - the specific recognition of an antibody or antigen. This technology has long been mastered by bioMérieux and applied to vaccine production, an historical field of activity for the Institut Mérieux. A foundation that enabled the two companies to rapidly find points of convergence. « We quickly recognized the high quality of InDevR's products and team and that we share a common vision and mindset. This partnership reflects our desire to expand our offerings with high value-added solutions.» explained Michael Reynier, Senior Vice President, Healthcare business, Industrial microbiology, bioMérieux
The capital increase will enable InDevR to accelerate its commercial development by leveraging bioMérieux's network in Europe. Dr. Kathy Rowlen, InDevR co-founder and CEO commented "I am deeply gratified that we have the opportunity to continue our successful partnership with Adjuvant Capital and to work with the talented team at bioMérieux. The expertise and experience of bioMérieux, combined with InDevR's innovation engine, sets the stage for a win-win by ensuring that our new CQA/QC* tools are backed a trusted partner who understands the needs of highly regulated pharma."
For bioMérieux, this partnership reflects our desire to expand our offering with high value-added solutions for pharmaceutical companies. Michael Reynier continued "VaxArray® perfectly fits this logic. Vaccine activity testing is a critical need. Production volumes are in the billions of doses while quality control methods are based on traditional techniques that have limitations in terms of accuracy, speed, automation or standardization".
The technology developed by InDevR allows to control very precisely the presence of antigens whatever the chosen vaccine vector and to quantify them even for multivalent drug product thanks to multiplexing.
Today, the vaccine production sector is in the midst of a transformation following the massive emergence of messenger RNA vaccine technology in response to the COVID-19 pandemic. The VaxArray® platform provides an innovative response to the challenge of quality control of this new type of vaccine. InDevR recently demonstrated that the VaxArray platform works well for mRNA CQA/QC testing, providing excellent specificity and sensitivity while eliminating the need for extracting mRNA from lipid nanoparticles.  "We are on a mission to revolutionize CQA/QC testing for vaccines and therapeutics.  VaxArray provides us with the means to align the rapid advancement of mRNA vaccines and CGT with more efficient, standardized and cost-effective analytical tools. The partnership with bioMérieux supercharges our efforts to achieve that goal"  said Rowlen.

While bioMérieux has already expanded its portfolio to include endotoxin testing and cell quality control for cell and gene therapy, this new partnership with InDevR opens up a new avenue to better address the specific quality control needs of critical parameters monitored by the pharmaceutical industry.

* CQA/QC : Critical Quality Attribute/Quality Control
< SWIPE FOR MORE ARTICLES >