CSR: official recognitions from independent third parties
These acknowledgements illustrate the successful integration of our CSR ambitions into the corporate strategy, with the ultimate objective to support the United Nations Sustainable Development Goals. ​​​​​​​
Since its foundation in 1963, bioMérieux has aspired to continuously expand its social, societal and environmental commitment around the world. In early 2021, we formalized a new in-depth CSR strategy that strengthened its ambition to be an integral part of bioMérieux's global strategy and built around 5 pillars: Health, Planet, Healthcare Ecosystem, Employees and Extended Company.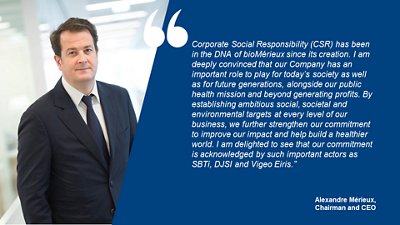 Our long-term commitment to sustainability has recently been recognized by major international organizations:
The Science Based Targets initiative (SBTi) approves bioMérieux's objectives:
Our emissions reduction targets and approach have been approved by the Science Based Targets initiative as consistent with the levels required to meet the goals of the Paris Climate Agreement, and to keep global warming to 1.5°C, which, according to the latest climate science, is needed to prevent the most damaging effects of climate change.
The Dow Jones Sustainability Index includes bioMérieux for the first time:
We have qualified as a constituent of the Dow Jones Sustainability World and Europe Indices. The DJSI is a float-adjusted market capitalization weighted index that measures the performance of companies selected using environmental, social and governance (ESG) criteria.
Manjit Jus, Global Head of ESG Research, S&P Global said:
"We congratulate bioMérieux for being included in the Dow Jones Sustainability Index (DJSI) for Health Care Equipment & Services. A DJSI distinction is a reflection of being a sustainability leader in your industry. The record number of companies participating in the 2021 S&P Global Corporate Sustainability Assessment is testament to the growing movement for ESG disclosure and transparency."
bioMérieux ranked #1 of its category in the Euronext Vigeo Eiris Index:
The extra-financial rating agency Vigeo Eiris (V.E) ranks bioMérieux No.1 of 47 companies in the Health Care Equipment & Services sector in its ESG assessment. We have improved our score by 3 points compared to 2020, when it already occupied first place. All sectors combined, bioMérieux is in the top 6% of all companies assessed by V.E, a Moody's Corporation subsidiary.